LoPresti, Bannister, Raines, Foos, Raines

Here are 5 fantastic reasons why

Spencerport is No. 1 in wrestling

Times Union


Thursday, December 1, 1988

Canandaigua Dual Meet


Spencerport, Raines have nothing to

lose as the state's top wrestlers

Democrat and Chronicle


Wednesday, January 11, 1989

Fulton Dual Meet


Ranger's lose by 'a matter of inches'

Democrat and Chronicle


Wednesday, January 18, 1989

Section V Class A Tournament


Reddick is natural champ for R-H

But Spencerport rolls to team title

Democrat and Chronicle


Sunday, February 19, 1989

NYS Qualifier


Olympia's Ricci bides his time,

wins 177 class

Democrat and Chronicle


Sunday, February 26, 1989

Ranger's lose by 'a matter of inches'
By John Moriello
Rochester Democrat and Chronicle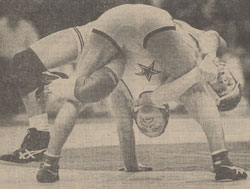 Dennis R Floss /Times Union
Spencerport's Jon Raines takes control of Fulton's Heath Julian in their 112-pound match.
The score indicated a commanding victory for Fulton High, but Spencerport wrestling coach Bill Jacoutot insisted it was just a "matter of inches" .

Fulton, the top team in the state rankings, defeated No. 9 Spencerport 37-20 in a matchup of unbeaten teams at jam-packed Spencerport last night.

"We lost some close bouts," Jacoutot said, "They just had that little edge here and there. I don't think they toatlly dominated us, but I do think they're the better team."

The Rangers had their moments: Joe LoPresti won the 138-pound match 15-2, Tom Foos captured the 145 on a technical fall and Mike LiCata won the 177-pound matche 16-3. Jon Raines tied his opponent at 112 and Jason Vinci pulled off a major surprise by drawing with heavily-favored Dave Wise at 167. Wise tied thh match with :05 left.

In all, Spencerport (8-1) recorded 24 takedowns to just nine for the Red Raiders (14-0).

"We needed another inch and we didn't come up with it. They've been in this kind of match before and we haven't. that may have been the difference tonight."

More than 1,200 fans filled Spencerport's gym last night, including a large contingent from Fulton. Several other fans were turned away at the door.

In another match, Brighton (4-0, 8-1) downed host Churchville-Chili (1-3, 2-6), 54-4.