LoPresti, Bannister, Raines, Foos, Raines

Here are 5 fantastic reasons why

Spencerport is No. 1 in wrestling

Times Union


Thursday, December 1, 1988

Canandaigua Dual Meet


Spencerport, Raines have nothing to

lose as the state's top wrestlers

Democrat and Chronicle


Wednesday, January 11, 1989

Fulton Dual Meet


Ranger's lose by 'a matter of inches'

Democrat and Chronicle


Wednesday, January 18, 1989

Section V Class A Tournament


Reddick is natural champ for R-H

But Spencerport rolls to team title

Democrat and Chronicle


Sunday, February 19, 1989

NYS Qualifier


Olympia's Ricci bides his time,

wins 177 class

Democrat and Chronicle


Sunday, February 26, 1989

Here are 5 fantastic reasons why Spencerport is N0. 1 in wrestling
By JIM MANDELARO
Times Union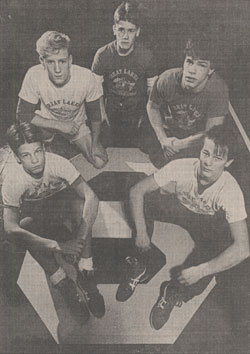 Reed Hoffmann/Times Union
Justin Raines (left), Tom Foos, Chris Bannister, Joe LoPresti and Jon Raines of Spencerport may look like choir boys, but on the wrestling mat, they're plenty tough. Each won at least 30 matches for the Rangers last year and all return to wreak havoc on Monroe County wrestlers this year. Se high school wrestling preview, page 4D.
When it comes to successful wrestling programs, few area high schools can talk louder and prouder than Spencerport.

In 14 years as coach, Walt Teike won more than 200 matches. Under Teike, Frank DeAngelis won back-to-back state titles in 1974-75.

Teike's replacement, Bill Jacoutot, has kept the program rolling. Jacoutot has won more than 70 matches in seven years and has produced 11 Section 5 champions and four state champs. In 1986, he had two state champs in Mike LoPresti and Rick Shur.

But this year may be the most special of all at Spencerport. The Rangers return five wrestlers who recorded 30 or more victories last season, an unprecedented feat in Section 5.

"I've been in wrestling for 20 years and I've never heard of it," said Eastridge Coach Jack Yengo, the Monroe County chairman. "It's incredible. He (Jacoutot) is practically guaranteed five wins every match."

Hilton's Al Krotz, has been coaching 27 years. He, too, is amazed by the Rangers' depth.

"I can't remember a team ever returning with so much talent," he said. "Thirty wins is very difficult to get, especially with their tough schedule. Five of them is quite a feat."

The Fabulous Five include three seniors, a junior and a sophomore. They are:

• Joe LoPresti, a senior. LoPresti was 33-7 last year and runner-up in the Section 5 Class A 119 pound final. He qualified for the state tournament but did not place. LoPresti has recorded 95 career victories in four varsity seasons and will wrestle at 126 pounds and above.

• Chris Bannister, a senior. Bannister finished last season 33-9 and was runner-up in the Sectional final at 112 pounds. He also did not place at the state tournament. Despite missing his sophomore year with a broken leg, Bannister has recorded 84 career victories. He will wrestle at 112 and 119.

• Jon Raines, a senior. He was 31-8 last year and finished third in the Sectionals at 105. Raines will wrestle at 105 and 112 this season.

• Tom Foos, a junior. Foos was 30-11 and fourth in the Sectionals at 138. He will wrestle ate 132 and 138.

• Justin Raines , a sophomore and Jon's younger brother. Justin was 30-7 and third at 91 pounds in the Sectionals. He will wrestle at 98 and 105 this season.

Jacoutot is trying to downplay the significance of his fabulous five.

"If I had 12 guys with 30 wins, I'd be pretty happy but I still have to fill seven other positions," he said. "I can't win with five guys - but it will help."

The state preseason rankings will be announced next week. Neil Kerr, editor of the state high school newsletter, doesn't know where Spencerport will be place but he promises it will be "very close to the top."

Spencerport opens the dual meet season Dec. 10 against Fairport.

Jacoutot sees common threads which unite all five of his stars.

"Wrestling is a priority in all their lives and in their families lives," he said. "Bannister plays soccer and Justin Raines runs cross country, but other than that, they wrestle year-round. they're all very talented."

LoPresti, the veteran of the group, remembers working out with Jacoutot two days after the state tournament last year.

"Coach is always willing to help us," LoPresti said. "In the off-season, he has a wrestling club and we go in and roll around all day."

The wrestlers are also good friends who enjoy spending time together on the weekend.

"This is one of the closest teams I can remember being on," LoPresti said. "A lot of times we'll just go over to someone's house and hang around. It's a very supportive group."

All five wrestlers have the same goal for this season, LoPresti said "We all want to go to states and think we all have a shot." Jacoutot agrees.

"They have the talent to be Section 5 champs and making states. But after that, who knows?"

[] With the Thirty Club returning, Spencerport is the favorite to unseat defending champion Brighton in Monroe County Division II. this may be the most competitive wrestling division in the state. Last year, Hilton finished 13th in the state rankling and was fourth in its own division.

Brighton, Hilton and Eat Rochester will all be strong again. ER has added incentive since this may be Coach Don Quinn's final year.

In Division I, Webster and Brockport should battle for first but Gates Chili could also sneak in.

In the realigned City-Catholic League, McQuaid should battle Edison for first place. The Knights will be coached by Lew Teike, Walt;s son. He replaces long-time McQuaid Coach John Roselli, who retired.

Edison lost two Sectional champs with the graduation of Al Aceto and Tony Calderon but should be strong again.