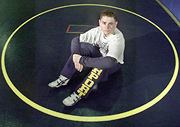 SHAWN DOWD
Determination Spencerport wrestler Shawn Hibbs is ready to be a champion.
(Dec. 10, 1999) -- It was the Sunday after last year's Section V Class A Tournament last year and Spencerport wrestler Shawn Hibbs had just lost in the finals for the second straight weekend to Greece Olympia's Joe Veltre.
Coach Bill Jacoutot invited Hibbs to his house to review the tape of the Class A tournament. They watched the final match about six times, then took a walk.
"Shawn," Jacoutot recalls saying, "I've been at this long enough to know a champion when I see one, but you're just not getting after it like you should. You're not loving the sport enough to be the top dog."
It hit Hibbs harder than a pancake takedown.
The next week at SuperSectionals he avenged those losses, handling Veltre 8-2, and then Hibbs became that top dog. He came from behind in all but his first match and captured the state title by winning the final 9-7 in overtime. His clutch takedown with three seconds left in the third period forced OT.
As Section V's only returning state champion, Hibbs is in rare air. But he already has found out life on top is tough.
The senior lost 9-7 in the 103 finals to Watertown's Joe Jewett, an Empire State Games gold medalist and state-place finisher, in last week's season-opening Cicero-North Syracuse tournament.
"I know I've got to be ready," he says.
Being the hunted, of course, is nothing new if you're a wrestler at state power Spencerport, the 11-time defending Section V Class A champion. It's a role Hibbs doesn't take lightly.
"I look down everyday at my singlet and I'm like, 'I'm from Spencerport, we have to uphold a tradition here,' " says Hibbs, a four-year varsity performer with a 99-22 record. "I know myself I'm never going to give up in a match. As long as I'm on the mat I can score points, and there's always a chance to win."
Hibbs says he's already noticed his new status as state champ has opponents coming at him even harder.
"They don't hold anything back. They just throw headlocks out of nowhere. Sometimes you get caught," he says.
Hibbs went 26-10 as a freshman, 30-8 as a sophomore and 40-3 last year. He also qualified for the Empire State Games last summer but skipped it to wrestle in Junior Nationals in Fargo, N.D., where he went 2-2.
"He's always been strong for his size, and he's got good balance," Jacoutot says of the 5-foot-4 Hibbs, who is considering the University of Buffalo and North Carolina.
He is ranked fourth in the country at 103 among seniors by the Amateur Wrestling News, one of only nine wrestlers from New York to earn that distinction.
One of Hibbs' strengths is thinking on his feet. He led Spencerport's loaded lineup last year in takedowns.
"I'm more of an offensive wrestler, so I'm thinking of what I'm going to do (my opponent) to take him down," says Hibbs, who played soccer as a youngster.
He'll study an opponent during tournaments, looking for weaknesses in case their paths cross.
"Pretty much you put yourself through a match before you go actually go through it," he says.
His rivalry with Veltre -- Hibbs won their first two dual-meet matchups before last year's counties, Class As and SuperSectionals -- might be a thing of the past. Hibbs thinks Veltre, also a senior, is moving up to 112 pounds.
"I'm going to miss that," says Hibbs, who enjoys fishing and dancing at clubs.