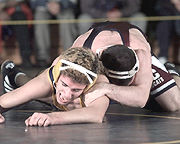 EVAN VUCCI
On top Johnson City's Rory Tobias rides Spencerport's Mike Bourne during the 135-pound championship match during the Teike-Bernabi Tournament at Spencerport Wednesday night. Tobias won 17-7.
<![if !supportEmptyParas]> (Dec. 30, 1999) -- Six minutes is a long time to be spending on the mat, especially after competing in several matches over two days.
Ten minutes seems like an eternity, which most wrestlers dread.
Sudden death is something nobody enjoys, except Spencerport senior Mike Wojtowicz.
Wojtowicz captured the 130-pound championship with five seconds left in the tiebreaker last night at the Teike-Bernabi wrestling tournament.
The victory was bittersweet for Wojtowicz, who lost in a tiebreaker at the same weight class last year.
Trailing 1-0 to Mike Privitere of Johnson City after the second period, Wojtowicz responded in the third period with an escape to send it into overtime. Each wrestler was awarded one point during the overtime after being called for stalling, tying the match at two.
Wojtowicz, who elected to start from the bottom in the tiebreaker, needed to break free to win the championship. With five seconds remaining, he broke from the grasp of Privitere.
"It was a great win because I've trained to wrestle in overtime and was ready for it," said Wojtowicz, who helped the Rangers (199 points) win the tournament over defending state champion Johnson City (189 points). "It really wasn't really exhausting because we get used to competing all the time."
Spencerport, which qualified seven wrestlers for the finals, walked away with four tournament champions.
"It was the greatest effort I've seen my wrestlers put in 19 years," Spencerport coach Bill Jacoutot said. "I took the guys to keep their swagger and they proved it out on the mats."
Spencerport's Chuck Olas held on to defeat David Hockenberry of Lewiston-Porter in the tiebreaker at 119 pounds.
Shawn Hibbs defended his 103-pound tournament title by pinning Brandon Walp of Lewiston-Porter in 5:02.
Jared Moreland claimed the Rangers' fourth championship at 112 pounds by major decision over Ryan Felton of Johnson City 17-4.
Mike Bourne (135), Scott Baxter (171) and Nick Laurro (275) each finished second for Spencerport.
Rush-Henrietta, which finished sixth in the team standings with 82.5 points, had Dan Chase (160) and Geoff Selleck (152) crowned tournament champions.
Jason Macartney of Gates Chili, which placed eighth with 77.5 points, decisioned Baxter 4-1 at 171 pounds.
In the consolation final at 145 pounds, Pat Hanscomb of Hilton decisioned Matt Champion of Rush-Henrietta 7-3. The Cadets finished in 16th place with 47 points.