It dozen get any better
Spencerport wins 12th consecutive Monroe County wrestling championship
By James Johnson
Democrat and Chronicle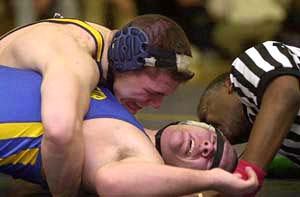 DANESE KENON
Alex Baxter of Spencerport defeats Rex O'Corr of Webster Schroeder in the 189-pound weight class. Baxter pinned O'Corr in 5 minutes, 44 seconds and the Rangers went on to clinch their 12th straight Monroe County championship. [Day in Photos]
(February 2, 2003) — WEBSTER — Pat VanThof feels confident these days, and for good reason.
Almost 11 months have passed since the East Rochester senior last lost a wrestling bout. That was during the consolation rounds of the 2002 state meet, as VanThof finished the season with a 37-2 record.
VanThof arrived at the Monroe County Championships this weekend expecting to get a good gauge on his chances to win during this postseason.
"If you can do well at the counties then you should be able to do well at sectionals," the East Rochester 171-pounder said at Webster Schroeder. "There are some good teams and wrestlers here. There were three undefeated kids in my weight class."
Van Thof ran into one of them and defeated Penfield senior Rich Schimpf, 6-2 in the weight class final to win county titles in back-to-back seasons.
"There are too many people gunning for me," VanThof, who improved his record to 22-0 this season, said. "I figure they have to beat me, because I'm in the top dog right now.
"But that's how you get better too, because they are wrestling you at their best."
Opponents get fired up when they face Spencerport wrestlers, too, but the Rangers still dominated the meet. The Rangers clinched the team title for the 12th consecutive year after the semifinal round and scored 254 points. Webster Schroeder, the runner-up and host, scored 154.
All 15 Spencerport wrestlers placed sixth or higher, including Dereck Gray and Dan Tomasso, who were with the program's junior varsity squad before this week.
"That's something I'm proud of," Spencerport coach Bill Jacoutot said. "I've had 13 or 14 place in a tournament, but I've never had that happen before."
Two Rangers were crowned champions. Alex Baxter, a 189-pound junior, was on one leg long past the halfway point of the third period during the final. Schroeder senior Rex O'Corr seemed to have the upperhand, or at least two points coming for a takedown.
Instead, Baxter rolled O'Corr to the mat and won the match by pin with 16 seconds remaining.
Spencerport senior Steve Stulpin, a county champion in 2002, beat East Rochester's Steven Cragg 6-0 in the 160 final to improve his record 27-0.
Pittsford 96-pounder Kyle Borshoff (27-0), a freshman, Schroeder sophomore 119-pounder Gregor Gillespie (32-0) and Schroeder senior 130-pounder Andrew Krieger (30-0) also remained unbeaten.
Krieger was named the Most Outstanding Wrestler of the meet for the second consecutive season. He dominated his championship match vs. Hilton's Adam Palermo, a technical fall victim after 2:42.
"We became friends from working out together," Gillespie, a two-time county champion, said. "He's like a brother to me.
"I almost get as nervous for his matches, as I do for mine."
Pittsford sophomore 103-pounder Jasen Borshoff admitted it can be tough to watch his younger brother Kyle on the mat too. Jasen has not had to console Kyle after a loss yet this season and both can call themselves county champions.
Big brother had a more difficult match in his final, as he edged 2002 state meet qualifier Josh Fuller of Spencerport 3-2.
Eastridge junior Mike Wood completed his climb back to the top of the county with a 6-3 win over Brighton senior Gene Kobilansky in the 125 final.
"It's unbelievable," Wood said. "I had a rough year last year, and to beat him is amazing. I just lost to him (9-5) about a week and half ago."
E-mail address: jjohnson@DemocratandChronicle.com