Wrestling title a family mat-ter
Stulpins close to making history

By Scott Pitoniak
Democrat and Chronicle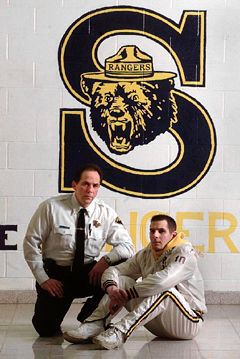 JAMIE GERMANO

Spencerport's Steve Stulpin, right, and his dad, Dave, could become the first father-son combo to win Section V wrestling titles. Dave won the 145-pound title in 1976 and Steve will try to win a title in the 160-pound division this weekend.

(February 21, 2003) — This wrestling debate divides along generational and family lines.

Dave Stulpin, Spencerport Class of '76, believes he would emerge victorious against his son, Steve Stulpin, Spencerport Class of '03.
Steve, meanwhile, believes he would be the one whose hand would be raised by the referee at the end of the match.
Father vs. son.
Baby Boomer vs. Gen Now.
Ready, wrestle!
"He has come a long way," Dave says, chuckling, "but Daddy ain't conceding his championship just yet."
"It would be close," Steve says, "but I'd still pick me."
We'll never know who would win a match between the two of them in their primes, but this much is certain: The apple didn't fall far from the tree.
The elder Stulpin established himself as one of the greatest grapplers in Spencerport history while wrestling varsity at 145 pounds for four straight seasons. And the younger Stulpin is bidding to go one step further than his old man.
With a championship in the 160-pound division at this week's Section V Tournament, Steve could make a little history. He and his dad would become the first father-son combo to win sectional crowns from Spencerport's tradition-rich program. It's also believed the Stulpins would become the first father-son championship duo in sectional history.
"That would be such an honor for me," Steve says, "because, all kidding aside, I have tremendous respect for what my father achieved on the mat. He's up there on Spencerport's Wrestling Wall of Fame. Just the other day, I was reading a story about him from his days wrestling there. It's pretty cool to think I could join him some day."
Dave introduced his son to the sport when Steve was just 5 years old. And through the years he has been his boy's biggest supporter. But other than passing along good wrestling genes, he takes little credit for Steve's achievements.
"You can push a kid toward something, but if he doesn't have that fire in his heart to pursue it, it's not going to happen," says Dave, a 20-year veteran of the Monroe County Sheriff's Office. "Steve seemed to have that fire from Day One. I remember when he was younger he was competing in this tournament in Fargo, N.D., and while everybody else was relaxing on their off day, he was out there running several miles in 90-degree heat. He's always been driven."
Dave went on to wrestle in the Olympic trials and Pan-American Games. Now 45, he can't help but see some of himself in his son.
"When you watch your son compete, you feel a lot of the emotions you felt out on the mat," he says. "I'll be leaning my body and shouting things like, 'Lower your stance. Keep your elbows in. Stay tight.' I know he's so focused out there that he doesn't hear me, but it's hard to stay quiet."
Steve appreciates his father's support. He enjoys wrestling for two.
"It's obviously something that's bonded us," Steve says. "Tradition is a big part of our program here, and this makes it even more special for me because I feel like I'm representing not only my school, but my family, too."
Dave went 38-0 his senior year before dropping a 6-3 decision in the state finals. Nearly three decades later, that loss still pains him.
"A few years ago, my grandfather came over to our house with this 8 mm film of that match and we watched it on an old projector," Steve says. "Dad was upset reliving it, but I thought it was kind of cool -- not because he lost, but because it was the first time I had an opportunity to see my dad in his prime as a wrestler .
"Our styles are different. I think he was faster and willing to take more chances. I think I'm more powerful and more of a stick-to-the-basics wrestler. It would have made for an interesting match between us because of our contrasting styles."
There are many reasons motivating Steve as he winds down his high school wrestling career. He suffered a disappointing loss in last year's sectional finals, depriving him of the title he covets.
He'd love to avenge that defeat and go on to win a state championship.
First and foremost, he wants to win it for himself. But he'd also love to win it for his father.
"He's always been there for me and I think it would be great if I could bring the sectional and state titles home," Steve says. "I know it wouldn't be the same feeling for my dad as if he won it back in his senior year. But I think he'd be very happy to have a state title in the family. It's definitely something I would share with him because he's been a big part of this. Anything I've achieved on the wrestling mat wouldn't have been possible without him."
E-mail address:spitoniak@DemocratandChronicle.com