Spencerport HS has look of success
Rangers wrestlers continue to show their dominance on the mat
Democrat and Chronicle
By James Johnson
Staff writer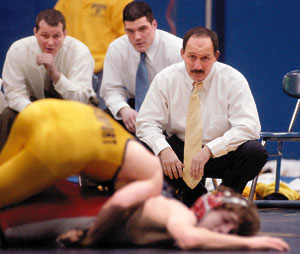 DANESE KENON staff photographer
Spencerport wrestling coach Bill Jacoutot watches as one of his wrestlers flips over an opponent. Jacoutot is 271-23-1 in 23 years with the Rangers and is 305-29-2 in his coaching career.
(February 20, 2004) — SPENCERPORT — It is not a pretty picture inside the Spencerport wrestling room.
The Rangers are soaked in sweat and going in circles. Jared Plucknette spins round and round on his feet during the drill, as he balances his upper body on the back of his workout partner.
"You really never stop moving,'' said Plucknette, a junior in his first varsity season. "The way that practice is run, it demands that you keep working.''
That's the way coach Bill Jacoutot likes it.
Spencerport has worked its way to the top of Section V's high school wrestling scene and remained there for years. One set of Rangers building on the work of previous groups, adding to a set of creations that are hard to imagine, but do exist.
The last time Spencerport lost a dual meet to a Section V team was 10 years ago, when Los Angeles was the home of two NFL teams. That streak is at 111 and counting.
It's been a safe assumption to carve the name Spencerport into a sectional team trophy 15 of the last 16 years. When the state meet qualifiers or SuperSectionals begin today at SUNY Brockport, 11 Rangers (and two alternates) will be in contention for the 15 large-school berths up for grabs.
"People expect you to win,'' said senior Alex Baxter, who is 36-0 this season. "I like that. There's some pressure there but we're well-prepared.''
Even for the people who don't always want to cheer for a winner.
"As many people who come to see us win,'' said senior Sebastian Baliva, "there's that many who come to see us lose.''
Some of the loudest cheers at tournaments come after a Spencerport wrestler loses. The Rangers are one of the few area high school teams that, on rare occasions, are booed by on-lookers.
"People are jealous,'' said Joe Rizzo of Rochester. "They are No. 1 in the state and they win their matches, so you can't take that away from them.
"What else are you going to do?''
When Billy Jacoutot, the current coach's son, won a controversial tournament final as a senior in 1997, angry fans shared angry gestures as well as boos. The younger Jacoutot did what the current Rangers do, shrug, block out the noise and continue to win.
Any retaliation would bring swift punishment from school officials and besides, there are times when the cheers of Spencerport fans drown out other noise.
"You know how it is,'' said Irondequoit coach Arkee Allen. "Everyone wants to see the giant fall. I give them credit for what they have done.
"Why wouldn't you? The results are there.''
Coaches in the Monroe County League point out how year-in and year-out there are 50-60 wrestlers at Spencerport practices striving to grab or hold spots in the varsity lineup, numbers they would love to see at their practices.
"No one's spot is in cement,'' said Plucknette. "Usually, as a freshman, you don't get into the JV lineup. You'll be lucky to get in as a sophomore.
"There's kids who go all the way through the program and get one or two varsity matches.''
Many of the pre-teen boys in the Spencerport-area want to wear the wrestling team's warm-up jackets, instead of becoming a Friday night football star.
"You want to wear those whites,'' said sophomore Jason Woodward. "You look up to those guys when you're younger.
"They were just tough guys.''
Some of those guys are relatives who wrestled for legendary Spencerport coaches Walt Teike or even Leo Bernabi, the team's first coach.
After Plucknette regained his wind during a recent practice, he pointed out six relatives in team photos mounted in the hallway outside of the practice room.
There is his grandfather Tom wearing a pair of Chuck Taylor Converse sneakers near Bernabi in the 1950-51 team photo. And there is his cousin Ben with a serious look on his face in the 2001-02 snapshot.
Coach Bill Jacoutot, 50, rarely lets himself feel that way.
"We don't have T-shirts that say state or sectional champions,'' said Jacoutot. "That's too much reflection on yesterday's news. Once I think I have all the answers, we'll be bad.
"There are too many people chasing us and they don't have their eyes closed. We have an unbelievable paranoia that we're going to become bad.''
It's an energy that sends Jacoutot to clinics and camps, where he shares ideas with college coaches or provides instruction himself. It's an energy that causes him to jot down thoughts on a notepad he keeps near him as he watches television. It's an energy that allows Jacoutot to put together a notebook that contains details from Spencerport practices -
held 15 years ago.
"The secret to success is hard work,'' said Hilton wrestling coach Chuck Partridge. "Nobody works harder than Bill. When he's going to do something, he's going to do it right.
"He had never been fishing before, so I took him. He jumped right into that. He started reading about it. He bought a boat. He joined BASSMasters, and told me I should do the same.''
Spencerport wrestlers have listened to Jacoutot for the past 23 seasons. It no coincidence that the Rangers are winners, and not simply going in circles.
"I'm always looking for new ideas, things to keep me going,'' said Jacoutot, whose record at Spencerport is 271-23-1. "You never stay the same.
"You're either going up or you're going down.''
---
By the numbers
Spencerport won a Section V team championship last week for the 15th time in the last 16 years. Those are just one set of impressive numbers produced by past and present Rangers:
Season-ending No. 1 state rankings: 1993, 2001, 2002, 2004.
Section V dual meet win streak: 111 (dating back to Feb. 1994).
Monroe County dual win streak: 122 (Dec. 1991).
Dual record since 1989: 195-9-1.
Lineup: Kase Graham, Eric Piedimonte, Derek Gray, Bryan Bourne, Brett Woodward, Jason Woodward, Dan Tomasso, Adam Snook, Mike Terenzi, Mike Collura, Matt Legas, Sebastian Baliva, Alex Baxter, Jared Plucknette, Tom Rodak.