Spencerport wrestling faces strong, maybe historic challenge at Hilton
James Johnson . Staff writer . January 15, 2013
www.rochesterdandc.com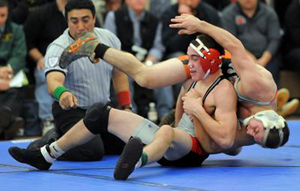 ADRIAN KRAUS staff photographer

Vincent DePrez, shown here on the left versus Phoenix's Nick Tighe, is part of a formidable spot in the Hilton lineup.

Some come to see the king.

Others show up, because the king may get crowned.

Spencerport, Section V's most successful wrestling team for decades, faces the first of what should be two strong local challengers on Wednesday, Jan. 16 at Hilton. This a Monroe County league dual meet, a type of matchup the Spencerport Rangers last lost in December of 1991, to Greece Athena.

That's an unbeaten streak in league matches that stretches back more than 21 years.

The Rangers (14-4 overall record), are 3-0 in their Monroe County Division II matches, but there is a thought that Hilton or Brockport on Jan. 24 can top Spencerport, which has more freshmen (four) than seniors (two) in the lineup.

We'll see. There were similar whispers during recent seasons, only to have the Rangers keep their hold over league competition.

"Hilton is well-put together and they have the technical skill," Spencerport coach Dan Glover said. "They've always been a progressive program, doing well year-in, year out.

"It seems like they have found something special this year. A lot of it is going to come down to matchups."

Hilton's middleweights may be the strongest part of the Cadets' lineup.

Vincent DePrez, Anthony DePrez, Mike Spallina and Harald Juergens won the 138-,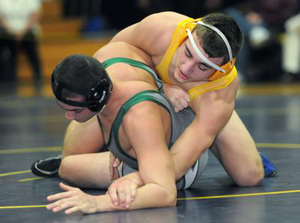 ADRIAN KRAUS staff photographer

Spencerport junior Trent Egenlauf at 182 pounds, is 27-0 this season.

145-, 152- and 160-pound weight divisions at Hilton's Clayton Barnard Memorial Tournament, which included Spencerport.

"We're trying to treat it like any other match, and it's tough to do," Hilton coach Craig Gross said. "It's Spencerport, they've been good for so long.

"One of my coaches asked me what are we going to do in practice (on Tuesday). I said, 'We're going to do the same thing we do before every match.' Things are working pretty well, why change at the last minute just because we're wrestling Spencerport?"

Spencerport may hold an edge at the heavyweights. Trent Egenlauf at 182 is undefeated. Collin Pittman, another Spencerport junior, was only stopped in the 195 final of the Clayton Barnard by Fairport's Colton Kells,who is 32-0. Spencerport senior 285-pounder Austin Coleman avenged one of his two losses this season, last week, and is 26-2.

"Everyone knows, by this point, what their job is," Coleman said.