Spencerport wins third straight Teike-Bernabi
By Jeff DiVeronica
Democrat and Chronicle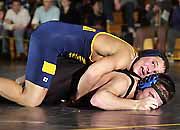 DANESE KENON
Spencerport's Steve Stulpin rides Rush-Henrietta's Matt Champion in the championship round of the 152-pound weight class. Stulpin won the match 9-3.
(Saturday, December 29, 2001) -- The theme on this season's Spencerport wrestling poster is "Still on Track," and last night the Rangers showed that even the flu can't derail them.
Despite competing without 125-pound sophomore Mike Terenzi and 130-pound senior Dan France, whose combined record this winter is 22-1, Spencerport captured its third straight championship at the 36th annual Teike-Bernabi Tournament. The host school edged Section IV rival Johnson City 209 points to 197.5 points for its 11th title.
The Rangers had three champions -- sophomore Brett Woodward (103 pounds), who also won last year, and juniors Mike Brongo (135) and Steve Stulpin (152) -- and three other runners-up, including junior Jeff Teike (119), senior Don Zimmerman (160) and sophomore Alex Baxter (189).
"To be honest, I didn't think we'd win. I thought we were in trouble," said Spencerport coach Bill Jacoutot, whose team shares the state's No. 1 ranking with Canandaigua.
Johnson City is third.
Jacoutot can talk faster than snow falling in Buffalo, but the architect of 19 Section V Class A champions was serious. On top of sickness sidelining Terenzi, a Teike-Bernabi runner-up last year, and France, a team captain, he thought the Rangers weren't sharp in a 35-9 win on Dec. 20 over Brockport.
"Our bench decorum and our match preparation was terrible. You have to take everybody seriously," Jacoutot said. "When that's bad you move slow, your decisions aren't good and you look fatigued."
But the Rangers came out ready and their depth showed. Junior Matt Schirmer filled Terenzi's slot and lost twice, but at 140 junior Joe Mauro, wrestling for France, earned four points by winning twice.
"Those were important," Jacoutot said.
So was Stulpin's 9-3 decision over Rush-Henrietta senior Matt Champion. Although Spencerport was leading Johnson City, which had four finalists, JC's Joe Sacco had just won 9-8 in the 145-pound final. Spencerport had wrestlers in the next two matches.
In the final seconds of the second period, Stulpin took Champion down and put him on his back for a 5-2 lead.
"It's funny because I felt lousy after the semifinals," said Stulpin, who took a first and second as Spencerport won its first two tournaments this season at Cicero-North Syracuse (school-record 11 finalists) and Jamestown (tourney-record 319 points).
Stulpin chilled out for a few hours before the finals by grabbing a sandwich and watching a girls volleyball tournament.
Brongo was runner-up in his last two tournaments. "I wasn't taking second again," he said. He wrestled just as determined, winning his final match, 6-3.
"I've been training a lot harder this year," Brongo said. "I'm ready to wrestle anyone."
Seems all the Rangers abide by that motto.