Spencerport hosts showdown
By James Johnson Democrat and Chronicle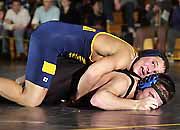 DANESE KENON
Spencerport's Steve Stulpin and his Ranger teammates have dominated Section V wrestling for nearly a decade, but they will be tested Saturday night by Canandaigua.
Rangers or Braves?
Two wrestling coaches from the Monroe County League and a pair from the Finger Lakes share their thoughts on Saturday's dual meet between Spencerport and Canandaigua:
Arkee Allen, Irondequoit Score: Spencerport 23-19. Gives Spencerport the edge among the lightweights and middleweights.
His logic: ''I wouldn't be surprised if (Spencerport coach) Bill Jacoutot didn't do much to his lineup and said, 'Let's wrestle.' His kids are like that and a team is really good when it emulates its coach.''
Jack Fisher, Newark Score: Canandaigua, 27-25. ''As far as I'm concerned, you are talking about the No. 1 and No. 2 in the state.
His logic: ''Spencerport picked up a couple of kids, but Canandaigua has wrestled some really good competition this year.''
Bill Hadsell, Geneva Score: Spencerport, 25-20. ''There are going to be so many close matches.''
His logic: ''The key for Canandaigua to be able to win is not to get pinned at those heavier weights.''
Mickey Marlowe, Rush-Hen. Score: Spencerport, 30-28. ''The match I'm pretty excited to see is Steve Stulpin (Spen) against Tom Cuppernell.
"They both are good athletes.''
His logic: ''Spencerport has been beating everyone and not even at full strength.''

(Saturday, February 2, 2002) -- At least 1,200 people plan to jam inside Spencerport's gymnasium tonight and it's not to sit on their hands.
An enthusiastic, largely pro-Rangers crowd is expected for tonight's 7 p.m. dual meet between Canandaigua and Spencerport.
Fans snapped up all of the available admission tickets in both communities within hours last week. They are excited about this face-off and that goes double for the wrestlers.
"It's going to be packed," Spencerport middleweight Steve Stulpin said. "Your adrenaline goes all night.
"Some kids can't handle it, but our team likes that."
It's not often that bleachers are filled when two teams are wrestling, but this matchup is a magnet for fans and has been for the last eight years.
Spencerport (11-0) is ranked No. 1 in the state among large-school teams this time around, while Canandaigua (12-0) has moved up to fourth.
The Rangers are annually considered the team to beat in Section V. Their only consistent challenger over the last decade has been Canandaigua.
"They both don't duck anyone," Rush-Henrietta coach Mickey Marlowe said. "It would be just as easy for them not to wrestle each other, but they do.
"If they didn't, then we all would have to wonder."
The two teams have flip-flopped positions since they last met head-to-head.
It was Canandaigua that was ranked No. 1 and hosting the meet last year in front of a sell-out crowd, the majority of which were Braves fans.
The Rangers, slight underdogs despite their history, won six consecutive matches between the 130- and 160-pound weight divisions to win 27-17.
"As a team, we were just a little bit overconfident," Canandaigua 125-/130-pounder Wade Clar said. "We got really pumped up for it with all of the people there and thought we were going to go out and score big points."
Clar and some of his teammates believe the Braves are better than they were last season.
"We've gone to some tournaments, like the Beast of East (Delaware) and we're decent," he said about Canandaigua's 22nd-place finish at the national event.
"The teams that were there were unbelievable.
"If we can keep our composure down there, we can keep our composure at Spencerport."
The Rangers have not lost a dual meet to a Section V team since 1994 when Canandaigua beat them. Spencerport's record against local clubs in the eight-year span? 89-0-1. Six of the wins have come at Canandaigua's expense.
"We'd actually be happier about beating them then being No. 1 in the state," said Canandaigua middleweight Sam Hapstack, a senior.
"It's been so long since we've done it."
Spencerport's wrestlers are confident that they have been prepared to win, whether the Braves arrive motivated by revenge or not.
"I'm psyched," Spencerport 135-pounder Mike Brongo said. "We have the tradition that we have to uphold. I'm not going to let Canandaigua beating us happen during my time."