Spencerport just too strong
By James Johnson Democrat and Chronicle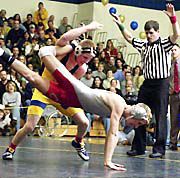 DANESE KENON
Jeff Teike tosses Jadon Lynn to the mat. With the help of a takedown in the third period, Teike went on to win 6-2.

(Sunday, February 3, 2002) -- Don Zimmerman's and Mike Terenzi's teammates at Spencerport had a hunch that they would walk on to the mat for the team's most important dual wrestling meet of the season.
It was not guaranteed however. So when Zimmerman and Terenzi came back from injury and illness to wrestle Saturday night, it was one of the few times this winter that the Rangers could send out their strongest lineup.
Spencerport showed that Canandaigua could not come close to topping it, as the Rangers romped to a 33-15 win in a matchup of state-ranked clubs.
"We knew everyone was going to come through for this," Spencerport 130-pounder Mike Brongo said. "It's a good leadership quality to deal with pain.
"He's still going out there for you, so you want to go out there for him."
Zimmerman, wrestling with a shoulder injury, beat Canandaigua's T.R. Chinn 5-2 in the 160-pound match to put the state's No. 1 ranked large school team ahead to stay.
The score was tied 15-15 before Zimmerman's victory, which was one of six in a row by Spencerport wrestlers to close the meet.
Terenzi was a 7-2 winner over Paul Kane at 125 in his first match following a six-week bout with mononucleosis. The condition left Terenzi's spleen swollen.
"If you get hit there the wrong way, you die," the sophomore said. "So I couldn't wrestle.
"Emotionally, I was going nuts because I wanted to get back in that (team practice) room and wrestle."
A doctor cleared Terenzi to resume his sophomore season five days ago.
Zimmerman's left shoulder has not healed yet. He received physical therapy last week and decided with coach Bill Jacoutot that he was ready to go against fourth-ranked Canandaigua.
"He did not wrestle during the week and he comes out beats a quality kid," Jacoutot said somewhat amazed. "When our kids get pressed against a wall, they usually come through."
Spencerport improved to 90-0-1 in duals against Section V teams since 1994, the last time the Rangers lost to an area team.
Canandaigua 112-pounder Greg Gelinas handled Blake Woodward to win 14-5 and get the Braves off to a good start.
Coach Rich Romeo said that "everything was going to plan" until the 140-pound match.
The Braves didn't expect to win that matchup, but thought of what might have been after Brongo held off Kevin Morrice to win 1-0.
Canandaigua led 15-9 after 145-pound junior Tom Cuppernell beat Joe Morabito 12-2. Cuppernell however, was looking for a wider margin of victory, if not a pin.
"It was kind of slipping away at that point," Romeo said.
Next up was the 152-pound bout, which was a mismatch. Spencerport's Steve Stulpin jerked Sam Hapstak around the mat before winning via technical fall after 5 minutes, 13 seconds.
"He's a 135-pounder so I knew I could handle him," Stulpin said.