US Beach Nationals:

Wrestlers try their craft in sand of

Ontario Beach Park

Rochester Democrat and Chronicle


Sunday, July 6, 2008

Teike-Bernabi:


Spencerport wins Teike/Bernabi

wrestling tournament

Rochester Democrat and Chronicle


Wednesday, December 31, 2008

Union Endicott Duals:


Spencerport wrestlers finish first

at U-E Duals

Rochester Democrat and Chronicle


Saturday, January 3, 2009



Spencerport stakes claim as

U-E champ

Rochester Democrat and Chronicle


Sunday, January 4, 2009

Fairport Dual:


Fairport wrestling coach relishes

David vs. Goliath match against

Spencerport

Rochester Democrat and Chronicle


Friday, January 9, 2009



Spencerport wrestlers take down

Fairport

Rochester Democrat and Chronicle


Thursday, January 15, 2009

Hilton Tournament:


Brockport's Boley notches MVP

weekend Brockport senior earns top

honor with big win at Barnard

Rochester Democrat and Chronicle


Sunday, January 18, 2009

Monroe County Tournament:


Hilton's Velieri wins Monroe

County wrestling title

Rochester Democrat and Chronicle


Sunday, February 1, 2009

Section V Class AA Tournament:


Mendon's Dwyer hoping for

rematch with Boley

Rochester Democrat and Chronicle


Sunday, February 15, 2009

Section V NYS Qualifier Tournament:


SuperSectionals has potential for

fantastic wrestling matchups

Rochester Democrat and Chronicle


Friday, February 20, 2009

Spencerport wins Teike/Bernabi wrestling tournament
James Johnson . Staff writer . December 31, 2008
www.rochesterdandc.com


SPENCERPORT - Spencerport is all but a brand name when it comes to high school wrestling, something on par with a popular bar of soap, pair of jeans or can of soda pop.

Generally, you know what's coming, and the product is usually very good.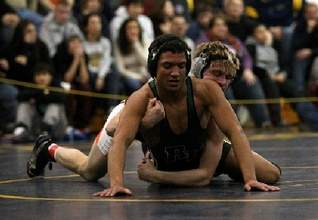 SCOTT ELLMAN staff photographer

Ian Paddock of Warsaw (on top) wrestles Jon Roberts of Rush-Henrietta in the final of the 135-pound weight class. Paddock won by 11-4.

Yet, while the team name remains the Spencerport Rangers, the wrestlers who make up the lineup do change. And this year's group, with some exceptions, have little or no history of producing for a No. 1 state-ranked team.

"We don't really have a lot of guys who've had a lot of success," Spencerport coach Bill Jacoutot said.

The Rangers have yet to stumble, and after winning the Teike/Bernabi Spencerport Invitational Tournament with 206.5 points on Tuesday, they appear to be in good shape for the Union-Endicott Duals this Saturday outside of Binghamton.

Shenendehowa, ranked No. 2 behind Spencerport among large schools in the state, finished second with 147 points. Centennial, a team from Roswell, Ga. coached by former Rush-Henrietta standout Don St. James, finished third with 123.

"We don't want to be that team to bring it down," Spencerport 215-pounder Paul Glover said. "When people said that the team wouldn't be good, that was just ignorant.

"We have the guys. Everyone is working hard and are dedicated."

Glover, a state champion last year, was Spencerport's only weight division winner. But 12 Rangers finished fourth or better in their weight class, including six finalists. And to reach the finals was an accomplishment in some divisions.

"I'm just happy that the kids are competing in tough matches," Jacoutot said. "We beat the No. 2 team in the state by about 60 points.

"They've been winning. I don't want to go, 'Yeah, we've arrived.' We can't do that until the year is assessed at the end."

The results of the U-E Duals go a long way toward shaping the state rankings. Spencerport's No. 1 slot is on the line. That's one reason why a team practice was scheduled for 10 a.m. this morning despite an impressive showing in a tournament stuffed with talent.

"This is my favorite tournament," Glover said. "The whole town is here, the place is packed. It's just like the state finals to me."

The four semifinalists in the 112-pound division finished no lower than second in their state tournaments last year.

Wayne sophomore Bobby Dierna, a state champion at 96 pounds in 2008, finished third in the division. Centennial senior Brian St. James, the son of Don St. James, handed his Dierna his first loss of the season and pinned Johnson City's Sean McCormick in the 112 final.

"It was probably tougher than our state tournament will be," Wayne coach Ron Gross said.

No one laughed at the observation, just like no one chuckles at the skill of Warsaw senior Ian Paddock, the Ohio State-bound 135-pounder who has won three state titles. He became Section V's all-time winningest wrestler on Monday, his record stands at 241-6.

Paddock expected and received a good match with Rush-Henrietta senior Jon Roberts in the 135 final, won by 11-4 by the Warsaw lightweight. Roberts scored the first takedown and led 4-3 before Paddock took control.

"He's pretty good," Paddock said. "He probably would've done real well at the state tournament last year but he got hurt."