US Beach Nationals:

Wrestlers try their craft in sand of

Ontario Beach Park

Rochester Democrat and Chronicle


Sunday, July 6, 2008

Teike-Bernabi:


Spencerport wins Teike/Bernabi

wrestling tournament

Rochester Democrat and Chronicle


Wednesday, December 31, 2008

Union Endicott Duals:


Spencerport wrestlers finish first

at U-E Duals

Rochester Democrat and Chronicle


Saturday, January 3, 2009



Spencerport stakes claim as

U-E champ

Rochester Democrat and Chronicle


Sunday, January 4, 2009

Fairport Dual:


Fairport wrestling coach relishes

David vs. Goliath match against

Spencerport

Rochester Democrat and Chronicle


Friday, January 9, 2009



Spencerport wrestlers take down

Fairport

Rochester Democrat and Chronicle


Thursday, January 15, 2009

Hilton Tournament:


Brockport's Boley notches MVP

weekend Brockport senior earns top

honor with big win at Barnard

Rochester Democrat and Chronicle


Sunday, January 18, 2009

Monroe County Tournament:


Hilton's Velieri wins Monroe

County wrestling title

Rochester Democrat and Chronicle


Sunday, February 1, 2009

Section V Class AA Tournament:


Mendon's Dwyer hoping for

rematch with Boley

Rochester Democrat and Chronicle


Sunday, February 15, 2009

Section V NYS Qualifier Tournament:


SuperSectionals has potential for

fantastic wrestling matchups

Rochester Democrat and Chronicle


Friday, February 20, 2009

Spencerport wrestlers take down Fairport
James Johnson . Staff writer . January 15, 2009
www.rochesterdandc.com

FAIRPORT - John Troina understood that he would probably have to wait for a spot in Spencerport's varsity wrestling lineup.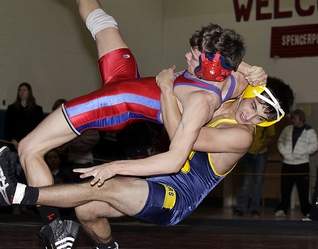 KRIS J. MURANTE staff photographer

Spencerport's Zak Haas, right, throws Fairport's Nick Treviso in a 6-5 victory in the 130-lb. match.

Troina was a junior last year. Bryan Bourne, a national champion who had his first state title in his sights, was a senior.

"Last year our whole team could've been our varsity," Troina said of Spencerport's reserves. "But we had the No. 10 in the country in front of us (the starters)."

So Troina waited and learned.

"That helps a lot when you practice with them," Troina said.

Drilled in Spencerport's competitive practice room day after day, Troina seemed prepared for the pressure position he was in Wednesday night. The 160-pound senior delivered a win that sparked the Rangers to a 26-21 victory at Fairport in a matchup of top-five state-ranked teams.

"We were coming apart and someone had to put the glue back," Spencerport coach Bill Jacoutot said. "John glued us back together."

Fairport led 15-11 after 152-pounder Dave Foley pinned Ray Daniels in 2 minutes, 23 seconds. Foley raised his arms and gestured to stir Fairport fans and teammates into an even more excited state. The Red Raiders, fourth in the state large-school rankings, were ahead of the two-time defending state champions and current No. 1 Rangers in front of a large crowd inside the Fairport gymnasium.

Then Troina walked onto the mat to face Adam Onderdonk, fell behind 2-0 nine seconds in, but scored a takedown in the final 30 seconds during a 7-5 win. Troina's win cut Fairport's advantage to one point, which quickly disappeared during a string of four consecutive victories for Spencerport.

"We know what we are expected to do," Troina said. "People want to beat you. They are always up for the fight, but you keep going out there and showing that you are the best.

"I was scoring back after every time he scored."

Nick Baxter, a senior who has had to earn his way into Spencerport's lineup more than once, followed Troina's momentum-shifter with a pin of Jeff Cowden in 3:58. Baxter lost to Cowden three times last season. A reversal by Baxter led to a cradle that clinched the fall.

"I knew I was going to face him," Baxter said. "He's tough and keeps going after you.

"I knew what I had to do. We're ready for the pressure."

Bradley Englert was next at 189 after Baxter's pin gave Spencerport a 20-15 lead. Englert, a senior, defeated Pat Trabold 6-3.

Paul Glover, a state champion last year, was a 5-2 winner over Fairport's Ben Onderdonk at 215.

Kyle Goodrich and Thomas Davis won the final bouts at 103 and 112 for the Red Raiders, but could not get the pins Fairport would have needed to stop Spencerport.

"Those three matches after 152 are tough," Fairport coach Mike Kohl said. "Those are all tough kids. I'm confident that on a different day, different kids would win. You have to give Spencerport credit. In the end they were there. There's a reason why they are No. 1 in the state. They find a way to win."