Bryan Bourne:


Bourne Supremacy


Rochester Democrat and Chronicle


Friday, December 8, 2006

Teike-Bernabi:


Marianetti displays drive to win at Teike-Bernabi


Rochester Democrat and Chronicle


Sunday, December 31, 2006

Union Endicott Duals:


Spencerport tops U-E duals


Press Connects


Sunday, January 7, 2007

Hilton Tournament:


No. 1 Spencerport wins Barnard crown


Rochester Democrat and Chronicle


Sunday, January 14, 2007

Monroe County Tournament:


Brockport's Schuth stuns Lamagra


Rochester Democrat and Chronicle


Sunday, January 28, 2007

Section V Class AA Tournament:


High school wrestling: Spencerport keeps rolling


Rochester Democrat and Chronicle


Sunday, February 11, 2007

Marianetti displays drive to win at Teike-Bernabi
www.rochesterdandc.com
James Johnson Staff writer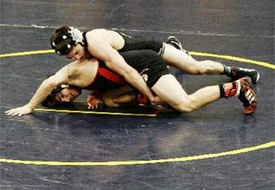 JEN RYNDA staff photographer
Greece Athena's Alex Marianetti, top, looks for leverage against Joe Smaldone of Geneva in the 103-pound final of the Teike-Bernabi Tournament. Marianetti, a junior, scored a 5-1 victory over the defending Section V Class champ to improve to 17-1 this season.
(December 31, 2006) — SPENCERPORT — While Alex Marianetti did not want it, Brighton's Zach Ellis handed the Greece Athena wrestler a great incentive plan for the 2006-07 season.
Marianetti was six seconds away from qualifying for last season's state wrestling tournament when Ellis rallied to defeat him at SuperSectionals.

It's been difficult for Marianetti to relax since then, and on a mat, that's not necessarily a bad thing.
Marianetti, a junior at Athena, continued his drive to redeem his 2005-06 season-ending loss and get to states by winning the 103-pound division Saturday night at Spencerport's Teike-Bernabi Tournament.

The Spencerport Rangers earned the redemption they were seeking as well, winning the team scoring with 175.5 points to runner-up Shenendehowa's 168.5. The Plainsmen outscored the Rangers in last year's tournament.
While it was not quite Marianetti's best performance on the mat, his 5-1 decision over Geneva sophomore Joe Smaldone at Spencerport improved the Athena lightweight's record to 17-1 this winter.
"I'm bigger, stronger and faster," Marianetti said. "Overall, I've come so far from last year.

"Every day in practice I go harder and harder."
JEN RYNDA staff photographer
Luke Popolizio, top, of Shenendehowa gets the turn on Wayne's Bobby Dierna during the 96-pound final at the Teike-Bernabi Tournament Saturday night. Popolizio won by major decision, 12-3.
Marianetti said he chose to wrestle again at 103 despite an eight-pound weight-gain and half-inch growth spurt. Athena assistant coach Mike Rowntree said that Marianetti can deadlift and squat more than 300 pounds.
Smaldone, a 2006 Section V Class A champion, was a formidable opponent for Marianetti.

Smaldone trailed 3-1 after he allowed Marianetti to his feet at the start of the final period. Marianetti defused another takedown attempt by Smaldone to hustle into position and score again.
Paul and Ian Paddock, 2005 small-school state champions from Warsaw, also won their weight classes.

Ian was tired, and not injured as it appeared after his 14-6 win over Cheektowaga's Jared Messina in the 119 final. Paul looked confident in the 160 final, a 7-2 victory over Chad Sindoni of Athens, Pa.
Up until that point, Sindoni had a case for the most outstanding wrestler award, which ultimately went to Matt Mariacher of Iroquois.

Sindoni edged Spencerport junior Bryan Bourne 2-0 in the 160 semifinals. Sindoni rode Bourne the final two minutes to win.
Bourne recovered and won his next two matches to finish third.

Spencerport managed to hold on for the win after two Rangers advanced to finals, compared to four Shenendehowa wrestlers. Chris Vigliotti, one of Spencerport's captains, and sophomore Paul Glover at 189 won their divisions.
Vigliotti's 11-0 win in the 152 championship clinched Spencerport's team title.

"It feels great," Glover said after his final. "This is my first tournament win in high school. It's a nice start."