Bryan Bourne:


Bourne Supremacy


Rochester Democrat and Chronicle


Friday, December 8, 2006

Teike-Bernabi:


Marianetti displays drive to win at Teike-Bernabi


Rochester Democrat and Chronicle


Sunday, December 31, 2006

Union Endicott Duals:


Spencerport tops U-E duals


Press Connects


Sunday, January 7, 2007

Hilton Tournament:


No. 1 Spencerport wins Barnard crown


Rochester Democrat and Chronicle


Sunday, January 14, 2007

Monroe County Tournament:


Brockport's Schuth stuns Lamagra


Rochester Democrat and Chronicle


Sunday, January 28, 2007

Section V Class AA Tournament:


High school wrestling: Spencerport keeps rolling


Rochester Democrat and Chronicle


Sunday, February 11, 2007

No. 1 Spencerport wins Barnard crown
www.rochesterdandc.com
James Johnson Staff writer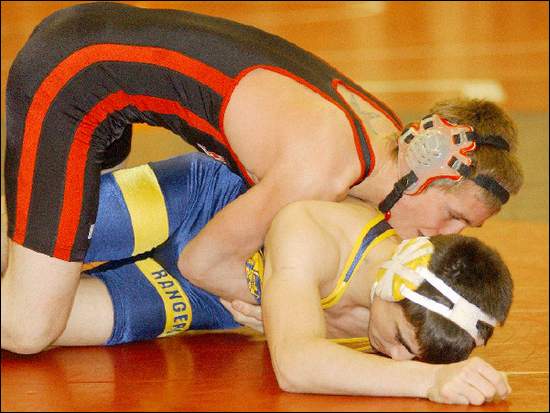 CARLOS ORTIZ staff photographer
Hilton's Mark Ranzenbach, top, earned a pin in 1:41 over Spencerport's Paul Morabito in a 130-pound class semifinal. Ranzenbach then earned his third straight title in the Clayton Barnard Memorial Wrestling Tournament by beating Ken Ryan of Holley, 8-1.
(January 14, 2007) — PARMA — The Spencerport Rangers returned home last weekend with the No. 1 ranking in the state among large-school wrestling teams.

This weekend the Rangers went to Hilton and showed why they are the state's best almost from start to finish of the Clayton Barnard Memorial Wrestling Tournament.

"Last weekend we put ourselves in a great position," Spencerport junior 160-pounder and national champion Bryan Bourne said. "We haven't won anything yet.

"I think last week's momentum is carrying over. Hopefully, we can keep it up and finish No. 1."

The Rangers, who had six finalists, finished far ahead of everyone else in team scoring on Saturday night with 272.5 points. Hilton, the tournament's host, came in second with 187.5 points, 85 behind the Rangers.

Spencerport's Justin Melia at 96 pounds, Matt Piedimonte at 112, 135-pounder Chris Collura and Bourne at 160 won their weight divisions.

"Everybody chipped in, did their part," said Piedimonte, a junior. "(Coach Bill Jacoutot) said we still got another lap to go."

Hilton raised its season total of pins to 103 during the tournament.

The Cadets, with the aid of sponsors, will donate money for every pin they score and donate those proceeds to a college fund for the two sons of Doug Lemcke, a former Hilton wrestler and youth coach who has ALS or Lou Gehrig's disease.

Hilton senior Mark Ranzenbach did not score a pin in the 130-pound final but was an 8-1 winner over Holley's Ken Ryan. Ranzenbach, a state tournament qualifier at 125 last year, has won the tournament three times.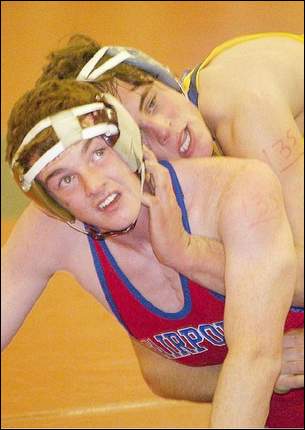 CARLOS ORTIZ staff photographer
Fairport's Shane Dowling, front, was defeated by Chris Collura of Spencerport at 135 pounds. Collura was one of four champions for the Rangers.
At 25-0, this is the first time he has gone this far into the season without a loss.

"It's sweet to win; everyone likes to win," Ranzenbach said. "It was tiring but exciting and pretty fun.

"All my friends and family were here. I don't like to get beat at home."

John Velieri, Ranzenbach's teammate at 152, probably had the most emotional win of the finals, 4-3 over Spencerport co-captain Chris Vigliotti.

Velieri, urged on by friends and family, scored a takedown with about 30 seconds remaining to wipe out a 3-2 deficit.

After Velieri avenged last year's loss to Vigliotti during the Barnard finals, the Hilton senior was named the tournament's most outstanding wrestler.

Canandaigua's Dan Mandara, a two-time state qualifier, defeated another senior and friend, LeRoy's Chad Condidorio, 4-3 in a struggle of a 125-pound final.

"That was the toughest class of the tournament," Hilton coach Chuck Partridge said. "Condidorio was a returning champion. The kid in third (Corinth's Ed Galvin) is a Section II champion and former state qualifier.

"(Spencerport's) Nick Terenzi finished fourth. It was loaded, very deep."

Former state champion Kyle Ingraham, Mandara's teammate and classmate, stopped an impressive run by Fairport's Seth Elvin, 4-0 in the 145 final.

Elvin defeated Geneva's Nick Fratto, a Section V class meet champion last winter, 4-3 during the semifinals.