Bryan Bourne:


Bourne Supremacy


Rochester Democrat and Chronicle


Friday, December 8, 2006

Teike-Bernabi:


Marianetti displays drive to win at Teike-Bernabi


Rochester Democrat and Chronicle


Sunday, December 31, 2006

Union Endicott Duals:


Spencerport tops U-E duals


Press Connects


Sunday, January 7, 2007

Hilton Tournament:


No. 1 Spencerport wins Barnard crown


Rochester Democrat and Chronicle


Sunday, January 14, 2007

Monroe County Tournament:


Brockport's Schuth stuns Lamagra


Rochester Democrat and Chronicle


Sunday, January 28, 2007

Section V Class AA Tournament:


High school wrestling: Spencerport keeps rolling


Rochester Democrat and Chronicle


Sunday, February 11, 2007

High school wrestling: Spencerport keeps rolling
Rangers easily win Class AA title, their 17th section crown in 18 years
John Boccacino
Rochester Democrat and Chronicle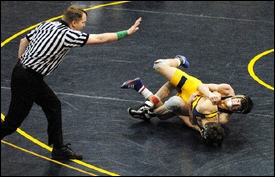 JEN RYNDA staff photographer
Torsten Gillespie of Webster Schroeder, right, wrestles Spencerport's Chris Collura in the final at 135 pounds. Gillespie won by decision, 9-1. Twelve of 15 wrestlers placed for the Rangers, No.1 in the state..
(February 11, 2007) — SPENCERPORT — Chris Vigliotti knows to pay close attention whenever Spencerport coach Bill Jacoutot has one of his "visions."

After heeding Jacoutot's latest advice, Vigliotti can finally claim his long-awaited Section V wrestling championship.

Vigliotti, who had finished third in each of the past two years, held off Hilton's John Veleri 1-0 to take home the title at 152 pounds Saturday. The Rangers won their 17th championship in the past 18 years, beating out Webster Thomas 227.5-135.5 for the Class AA title.

"This is an awesome feeling, I feel vindicated. After the match it felt like a great relief," Vigliotti said of avenging two earlier losses to Veleri, including at the Monroe County championships.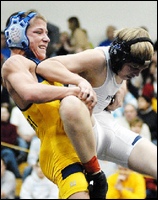 JEN RYNDA staff photographer
Spencerport's Justin Melia, left, goes against Pittsford's C.J. Howard in the title match at 96 pounds. Melia won 9-1.
"I was definitely seeking some revenge. We know each other's styles and it always is a low-scoring match between us, it's always real hard to score. It just came down to I needed a win.''

The only scoring came 10 seconds into the second period. Vigliotti broke free of Veleri's grip and earned a point for the escape. After that, Vigliotti managed to stay on top of Veleri the entire third period.

"My coach always has these visions of what might happen in a match, and earlier this week he told me 'You're going to have to ride him out' so I spent some time working on it, and it paid off," Vigliotti said.

"I just told him he would need to ride on top to win this match. We hadn't been riding the last couple of matches, but he (Vigliotti) went to work," Jacoutot said. "After he got the escape, I could see he was focused and he had his rhythm. I could see he had it today.''

Brockport's Erik Schuth won his second straight championship with a forfeit win at 189 pounds. Schuth was ready to face Webster Thomas' Ryan Lamagra for the crown, but Lamagra, who needed a 5-4 overtime win to advance, pulled out of the championship with an ear infection and other assorted illnesses.

Spencerport's depth was on display as 12 of the 15 Rangers placed at sectionals. Justin Melia (96 pounds), Matt Piedimonte (112), Nick Terenzi (125) and Bryan Bourne (160) also won individual sectional titles. Bourne became a four-time champion with a 7-1 decision over Penfield's Josh Salmon.

"We're excited for the quality of teams we've beat this year to earn the No. 1 state ranking, and we're excited to win this thing by almost 100 points," Jacoutot said of a squad that had five title winners.

Fairport junior Jake Husted outlasted Pittsford's Corey Borshoff to win 9-7 at 119 pounds.

"I know my coaches are ecstatic. I never expected this, because last year I was mediocre, but I put a lot of hard work in and now I'm a champion," Husted said.

Hilton senior Mark Razenbach won his third section title while Torsten Gillespie (Webster Schroeder), John-Martin Cannon (Brockport), Alex Marianetti (Greece Athena) and Schuth won their second titles.