Bryan Bourne:


Bourne Supremacy


Rochester Democrat and Chronicle


Friday, December 8, 2006

Teike-Bernabi:


Marianetti displays drive to win at Teike-Bernabi


Rochester Democrat and Chronicle


Sunday, December 31, 2006

Union Endicott Duals:


Spencerport tops U-E duals


Press Connects


Sunday, January 7, 2007

Hilton Tournament:


No. 1 Spencerport wins Barnard crown


Rochester Democrat and Chronicle


Sunday, January 14, 2007

Monroe County Tournament:


Brockport's Schuth stuns Lamagra


Rochester Democrat and Chronicle


Sunday, January 28, 2007

Section V Class AA Tournament:


High school wrestling: Spencerport keeps rolling


Rochester Democrat and Chronicle


Sunday, February 11, 2007

Brockport's Schuth stuns Lamagra
State champion loses first match of season at county championships
James Johnson
Rochester Democrat and Chronicle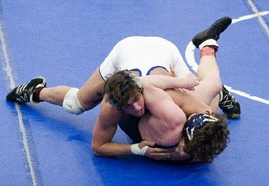 JEN RYNDA staff photographer
Brockport's Erik Schuth, top, earned a 10-5 decision over 2006 state champion Ryan Lamagra, of Webster Thomas, in the 189-pound final at the Monroe County Wrestling Championships. Schuth became a three-time league champion with the victory.
(January 28, 2007) - WEBSTER - Brockport's 189-pound wrestler Erik Schuth and Webster Thomas all-star Ryan Lamagra have met before and are almost sure to get together again on a mat.

The first time the two seniors met, Lamagra edged Schuth with a ride-out during an overtime period.

But Schuth can now say he is on equal footing with Lamagra, a 2006 state champion. Schuth gave Lamagra his first loss in 31 matches this season, 10-5 in the 189 final of the Monroe County Championships at Webster Schroeder.

"I figured that because we went into two overtimes earlier this season I would try my hardest to end it in regulation," Schuth said.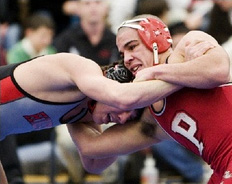 JEN RYNDA staff photographer
Hilton's John Veleri, left, decisioned Penfield's Josh Salmon, 6-2, in the 152-pound championship match. Hilton finished third in the tournament, 1.5 points behind runner-up Brockport.
He did just that with the score tied 5-5 with 10 seconds remaining. After Schuth fended off a shot at a takedown, a trip put Lamagra on his back as time expired. The crowd roared..

"Lamagra is the mountain," Brockport coach James Cannon said. "Until you get to the top, you never think that you can get there. He (Lamagra) is so tough, so hard to score on. He's been in these big matches before. One of the best things about this sport is watching a kid believe that he can do it."

Schuth (28-1), who has committed to wrestle at Division I Ohio University, became a three-time league champion with his victory over Lamagra (30-1). It is possible that Schuth and Lamagra will meet at least one more time, maybe twice, since the state tournament includes wild-card entrants for the first time.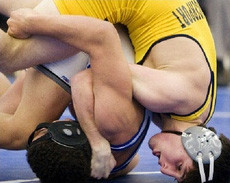 JEN RYNDA staff photographer
Spencerport's Bryan Bourne, right, pinned Brockport's Jordan Cannon in 38 seconds in the 160-pound championship. Spencerport placed first in team scores, while Brockport was second.
"Whoever doesn't win at SuperSectionals (the state qualifier), the other will get a wild card," Schuth said confidently. "I like it a lot.

"I know we're definitely the two best wrestlers in the state. He's the No. 1 ranked wrestler in the state, No. 11 in the nation. I was second in the state and 24th nationally, before today."

There were a handful of interesting matchups in the finals, while the team scoring was again a romp for Spencerport, which had 200 points. Brockport had 145 to edge Hilton (143.5) for second-place.

Hilton senior Mark Ranzenbach controlled Greece Olympia sophomore Josh Veltre to win the 130 final, 6-0. Brockport's John-Martin Cannon had a similar grip on the 145 final, a 13-3 win over Fairport's Seth Elvin.

Desi Green took down and let up Greece Arcadia 140-pounder Eric Slater until the Rush-Henrietta senior earned a 19-8 win. Brockport sophomore Christian Boley surprised Webster Thomas senior Alex Litto in the 171 final, 4-3.

Brighton junior Zack Ellis (24-4), a runner-up at states last season, edged Spencerport's Matt Piedimonte 2-1 in the 112 final. Ellis finally cracked Piedimonte's defensive stance with 1:35 remaining.

"The season is going pretty good," Ellis said. "I've lost a couple of one-point matches, but as a whole it's going okay.

"I'd rather make my mistakes now, so I can learn from them and don't make them later. At the beginning, I was letting people control me, getting tied up a lot. I still need to work on that."

Ellis has the knowledge and confidence that he can get back to states. His first trip seemed to come out of nowhere and then went on to finish in second-place at 103 pounds.

"I'm putting more pressure on myself," Ellis said. "I still have something to prove. Slipping by with a takedown in the final seconds, that's not exactly how you see yourself going to states. I want to control the match. I want to be able to dictate."

Webster Schroeder 135-pound senior Torsten Gillespie decided he wanted to become a two-time league champion inside of his school's gym.

Gillespie edged Spencerport's Chris Collura 6-5 in another match decided during the final seconds.

Gillespie, a fourth-year varsity wrestler, trailed 5-4 after Collura earned an escape with 55 seconds remaining. With both wrestlers on their feet, Gillespie stayed in high gear and hit a double-leg takedown with 41 seconds remaining to regain control. .